Peninsula Players Community Theatre Company was founded in 1982 and is a non-profit organization that relies solely on volunteers to stage every show. Our mandate is to provide exceptional theatrical entertainment to the Community, to cultivate growth and expression among our members and to have fun. Our members and patrons are our greatest resource.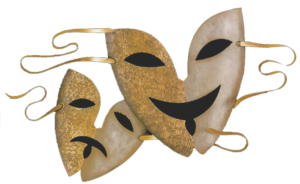 Peninsula Players
Community Theatre Company
Entertaining Niagara since 1982
In the spring of 1982, Valerie Grabove, the Assistant Director of St. Catharines' Carousel Players Theatrical Company and with funding from the Ontario Arts Council for the ongoing Artist-in-the-Community Project, had a mandate to explore the level of interest that local communities might have in forming theatrical production companies. On March 13, 1982, she hosted a theatre workshop in Smithville, Ontario, in the Niagara Peninsula. Eight people attended that first workshop where they decided to give a new theatre an all-out effort. Thirty people turned up at the second meeting and elected the first executive. Chosen were Marion Foster, president; Peter Gibson, vice-president; Katrina Glista, treasurer; Kelly Foster, secretary; Bruce Quinn, publicity; Margaret Bain, reading committee and Marilyn Robson, fund raiser.
Over the next few months, the group performed a trial production in front of a live audience, wrote bylaws and a constitution, penned their first newsletter and staged their first major production. In less than eight months, they had gone from first meeting to a full scale theatre company! Peninsula Players Community Theatre Company was born.
Peter Gibson, the one founding member with theatrical experience, was a driving force and had the insight to realize that they had stumbled onto something special to offer to the community. On May 10, 1982, the new group held auditions for a pair of one-act plays that would open on July 2 of that year. Rehearsing in a barn and literally dragging people off the street to fill the audience, the group performed The Dear Departed and The Monkey's Paw. Their first full production opened in November of 1982. The Murder Room, written by Jack Sharkey, directed by Peter Gibson and with set design by Lyall Marshall, was presented at College Street School in Smithville and was a smash hit. The West Lincoln Review, on December 1, 1982, declared The Murder Room "a tremendous success in every aspect". Ever since that first show, Peninsula Players has staged two major productions each season.

Working long, hard hours to get their first production off the ground, the group quickly learned to beg and borrow all the necessities required to stage a full scale production; props, furniture, costumes, lighting, sound equipment and lumber to build their sets. To power the lights they used miles and miles of borrowed extension cords, strung them from the rafters and plugged them into a homemade contraption that looked like an octopus with receptacles at the end of each tentacle. The first sound equipment was reel to reel. With the help of a Wintario grant in the early 1980's, the group was able to purchase an amplifier, dual cassette player, equalizer, lighting board and stage lights. To this day, they still use the same lighting board and lights. In 2004, the cassette player was replaced with a laptop computer to operate the sound.
The fledgling theatre group overcame many challenges over the years. They built two storey sets and rigged stuffed animal props so that the eyes would light up. One show, set in the 1920's, required a cast of sixteen, each with three costume changes. During another show, the leg of an armchair broke, sending an actor tumbling to the stage floor and the rest of the cast into a fit of laughter. The audience thought it was part of the act. Gordon Rowatt, the Director and a veteran of the group, was not amused. They even had a portion of the back wall of one of the sets fall down during a production. Two of the actors onstage at the time, Aubrey Boothman and Rob Muirhead, quickly improvised a cover up to make the mishap appear to be part of the show. It isn't unusual for the cast to lose a few lines, but during one performance, the cast dropped nine pages of dialogue. The actor who played the lawyer, a small role but crucial to the plot of the play, didn't even get to go onstage! The group scrambled several times to find last minute replacements for cast, directors, producers and crew that had to bow out of a performance due to illness or family emergencies.
In the 1990's, the group challenged themselves by adding murder mysteries, vaudeville shows and improv performances. Throughout the course of their development they also offered directors' workshops.
In 1999, Peninsula Players faced their most serious challenge. Due to an increase in rental fees charged by the school board for the use of the College Street School auditorium, they were forced to seek an alternative venue. The President wrote a plea for help in the program and that plea was answered by the late Reverend Jim Dowden of Trinity United Church in Grimsby. Being extremely community oriented, Jim offered the group the use of Trinity's original sanctuary that dated back to 1889. The group was awestruck by the space. After 17 years in Smithville, they made one of their most difficult decisions and then moved to their new home in the beautiful Memory Hall at Trinity United Church. Their very first production in Grimsby drew record crowds. They found that their dedicated Smithville following continued to support the troupe by attending the productions in Grimsby. Since then, Peninsula Players has been able to pay an honorarium to the church for the use of Memory Hall.
In 2000, Peninsula Players added the tremendously successful Opening Night Gala which includes complimentary wine and cheese, desserts and coffee.
In keeping with their mandate to cultivate growth, Peninsula Players began awarding bursaries in 2004. Each year, in each of the four local secondary schools, they award a $250.00 bursary to the graduate with high achievement and dedication in the area of Theatre Arts. In addition, all students who work on the shows receive an OSS credit in acknowledgment of the hours they spend volunteering in the community.
Once touted as "The Best Kept Secret in the Peninsula", Peninsula Players Community Theatre Company is extremely pleased with their accomplishments and credits their members, patrons, sponsors, and audience for their success.
Quick Facts About Peninsula Players
SEATS
Our theatre seats 117 audience members for each performance.
TICKET 
Ticket prices are $20 for Adults, Seniors and Students.
MEMBERSHIP
Membership in Peninsula Players is $10 and entitles one to one ticket at half price (excluding Opening Night Gala), our quarterly Troupers newsletter and notices for auditions and production meetings.
MAILING LIST
We offer an email mailing list for every show.  If you would like to be on the mailing list and receive advance notice of upcoming productions, contact info@nullpeninsulaplayersgrimsby.ca
PHOTO SHOOTS
Photo shoots of Ensemble members can be arranged for those media outlets that prefer to supply their own images.  Peninsula Players has a digital image bank that will become available in the Photo Gallery.
INTERVIEWS
Interviews with Peninsula Players executive, directors and cast can be conducted in person or over the phone.
TOURS
Backstage tours are available with advance notice.
For more information or to request any of the above services, please contact:
Sandra Bacon V.P. Publicity
info@nullpeninsulaplayersgrimsby.ca
Contact us if you want to get involved in our community!